The coffee industry could, in fact, pop. Yes, I know the coffee industry as a whole, doesn't want to hear or believe this. However, when you've been in business as long as my company has (WB Law Coffee, Since 1909), and have an understanding of simple economics, it doesn't take a rocket scientist to figure it out. There's a coffee consolidation happening. There has been and will continue to be closures, mergers and acquisitions of coffee retailers/ roasters. The fact is there will be less coffee roasters and retailers in the marketplace over the next few years, but is that a bad thing?
Let's go back. The year is 2007 and the U.S. is going through the worst financial crisis since the Great Depression. The stock market is down, banks aren't lending and businesses are closing all over the place. Over the next few years, many businessmen found a scalable low barrier to entry business: coffee shops. Howard Schultz and his Starbucks over the previous 15+ years showed people that there was a profitable market for specialty coffee. They all realized coffee is a great product because it's a daily ritual. It's not an occasional treat like many other "food and beverage bubbles" we've seen burst over the past few years (think "cupcakes".)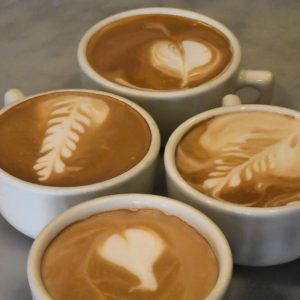 Now at that time, real estate prices were down after so many businesses closed. It opened the opportunity for retailers to get affordable leases to build their dream coffee shops. Over the next few years, many real estate developers were looking for new commercial anchor tenants to round out the buildings/neighborhoods they were developing. It was then that these boutique coffee shops became the new cool kid on the block, making the area a desirable place to hang out. The real estate developers made out well because tenants enjoyed having access to these coffee shops, and moved right in. Coffee shops, therefore, have played a role in increasing the value of real estate, creating a beautiful symbiotic relationship.
Soon, coffee shops throughout the up-and-coming urban areas were beginning to take on an all too familiar look of the "Peetnicks" of the 1960's. "Peetnicks" were "beatniks" of coffee shops in the 1960's in California… named after Alfred Peet, who many consider the "Godfather of Specialty Coffee." You know those hipsters sitting on their computers at local coffee shops? Yes, those are our modern day Beatniks/Peetnicks.. These Peetnicks, fresh out of school, were in search for a job in a catastrophic economy and certainly didn't have any disposable income to spend on luxuries; Luxuries like nights out at the bar or a top-end meal at a restaurant. Still craving the social outlet, these young men and women did have a few extra dollars to spend on exceptional single origin artisanal drip cups of coffee, lattes complete w/ latte art, mochas or cappuccinos complete with a muffin for $12, while utilizing the shops Wi-Fi for an hour or two. Averaging $6/hour for a meal, Wi-Fi, a place to study or work, or just to hang out… that's a great deal in my book.
Now, is it cliché that I'm one of these people working in a coffee shop, but writing about the consolidation of coffee shops? Maybe so. Essentially coffee shops became a replacement for the local diner hangout, a modern day library, and an inexpensive casual date spot for young singles. Fast forward over the next few years and now every neighborhood has a Third Wave coffee shop. This movement was so impactful that it even forced major players like Starbucks to create boutique concepts like their Reserve Roasteries to stay relevant in the specialty coffee space.
And now in the year 2017 many of these retailers are seeing the end of their ten year leases bare down on them. They recognize that although they're making money today, buying beautiful micro-lot coffees for $15+/lb. at green wholesale prices, they won't be able to keep their doors open. To make matters worse, the specialty coffee movement they helped to create has come full circle and now large retailers like McDonalds, Dunkin' Donuts, 7-11, and Wawa are all flexing their muscles in the gourmet coffee space. You can get a quality cup of specialty coffee at these locations, at an affordable price, thus diminishing the need for these boutique retailers. When these leases come up for renewal, the smaller retailers won't have cash to renew their leases. The result: business owners will be forced to sell their business to another retailer, or close their doors. And I can personally attest to this because I've already signed multiple non-disclosure agreements of coffee roasters/retailers for sale!
Meanwhile, as I write this, cold brew coffee is exploding at a rate we have never seen before, specifically in the millennial demographic which is continuing to have more purchasing power in the economy. Howard Schultz was quoted as saying cold brew was Starbuck's next billion dollar category. Cold brew coffee-specific companies are springing up all over, capitalizing on this category. But, if you're paying attention to FSMA & HAACP, you'll know that many people are not taking the time to safely brew and distribute their cold brew to retailers. It's creating an issue that could jeopardize our industry's new golden child. Once the FDA has their regulations in place, though many players will cease to exist, we will be given confidence that the products are safe and delicious to distribute.
Many experienced and well capitalized retailers have been ready for this bubble. Their plan, from day one, was to build a coffee shop/restaurant chain brand and then exit their business by selling to a larger foodservice company. Many don't even care if they were making a profit or not, hoping they'd make all their profit from the exit by achieving higher multiples of EBITDA due to their brand strength. For example Blue Bottle Coffee and Chameleon Cold Brew were sold to Nestle, and Coffee Intelligentsia to JAB Holdings, which also owns Peet's Coffee as well as a few other brands. These are prime examples of trendy companies that successfully built their brands only to sell to large investors
If you're a consumer, and now feel nervous that we'll go back to the dark ages on great coffee, don't worry. This Third Wave movement of coffee has forced larger coffee roasters, retailers, and restauranteurs to buy and market better coffees. This movement, that's getting ready to burst, has the coffee industry producing better cups of coffee from better trained baristas and retail staffs than ever before. Baristas are even competing in competitions, inventing unique coffee drinks, just like mixologists do at cocktail lounges. And right now, the cold brew coffee push is upgrading the iced coffee category; retailers can no longer get away with using yesterday's coffee for today's iced coffee. The roasters and retailers that have adapted will come out of this coffee consolidation even stronger with a better product.
My company, WB Law Coffee, is a prime example of adapt and evolve. Over the past nine years, we've traveled to multiple origins to source and procure better specialty coffees, not just relying on the importers. We created a made to order artisan coffee brand for the Third Wave space called Shadowbrook Artisan Coffee. We built a café training facility to train baristas, restaurant staffs, and service technicians. And we even built a state of the art cold brew coffee brewery for cold brew and nitro cold brew on tap, called Ironbound Cold Brew. We've seen firsthand how this has been a positive evolution of the industry, and I hope we all adapt and evolve as this plays out. Just keep on drinking great coffee and we'll keep brewing it.
By David W. Mendez, Vice President of Sales, Law Coffee
#coldbrewcoffee #coffeeshop #thirdwavecoffee #coffeeretailer #coffeeindustry #millennials