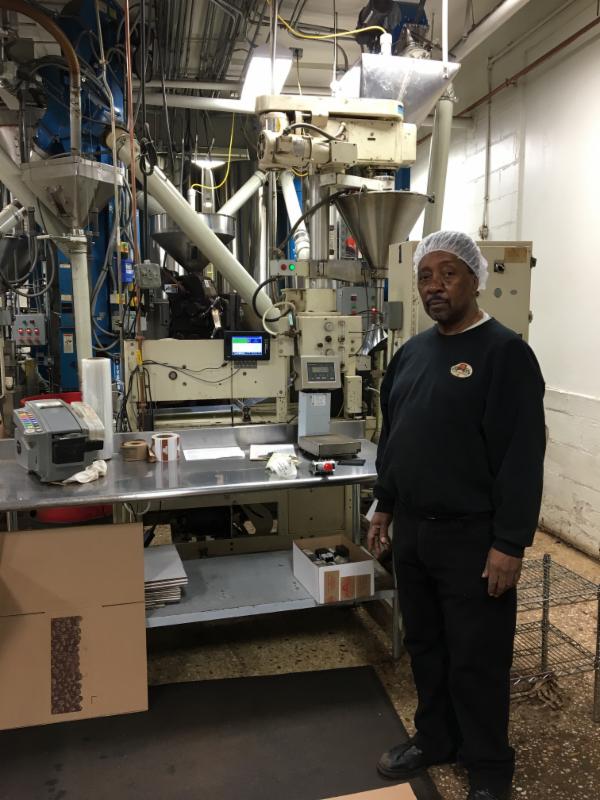 Today, August 16, 2016, Eddie Mills will reach quite the milestone! It was on this day back in 1967 that he walked through the doors of 265 Thomas Street in Newark, NJ for his first day on the job and was immediately greeted by the pleasantly sweet smell of coffee. And now on the start of his 50th year with Law Coffee Co. he still walks through those same doors and that smell, which he is not yet immune to, still greets him.
Mills began working for Law Coffee on August 16, 1967. He doesn't hesitate at all in recalling the exact date.
Born in Oxford, NC Mills moved to New Jersey in April 1964 as a young man simply seeking work. He first settled in Wildwood, NJ, working as a dishwasher then moved to Newark and began working in manufacturing for Remco Industries, a toy company founded in the 1940's, located in Harrison, NJ.
One day in August 1967, Mills walked into his local cleaners and began chatting with his friend and the shop's owner, Mr. Cooperman. After mentioning to Mills that his neighbor up the street, Mr. Law, was looking for help, Mills went right over to see about the job. Mr. Cooperman called up Warren Law, the President of Law Coffee, to let him know that Mills was coming by.
After filling out an application, Mills had a quick meeting with Law, who in essence said "So, you want the job?" Mills began working immediately…and hasn't stopped.
Mills claims that getting a job 50 years ago was easy. "There were plenty of jobs back then. You could walk right across the street and get another. There were 25 factories around here. Two slaughter houses down the street, a trucking factory…" As he lists off all the factories, Mills physically points in different directions, swiveling in his chair as he distinctly remembers each and every one. Newark, which once held a plethora of manufacturing facilities, like any other city, changed with the changing times.
As a production operator Mills was tasked with running the packing machine and readying coffee for shipment in the company's coffee production factory. Today, he still does exactly that, with some slight alterations.
"We didn't have all of these machines that we have now. We had a little packing machine…three and a half feet long. And we had paper bags that we would [physically] hold underneath the funnel [which would fill with beans]."
Mills would then take the filled bag, manually seal it and drop it into a box.
"It took forever. You had to be really quick."
Most everything was done by hand back then. Trucks carrying large shipments of beans would pull up to the factory and Mills and his co-workers would physically hoist up the large bags of beans, weighing up to 80lbs, carrying them into the factory. Every Single Day. Mills would fill large barrels with beans, then physically walk the barrels over to the grinder, pouring the beans in. Again, Every Single Day.
Apparently Mills is built of steel, as in all of these years, he's never even suffered an achy back.
The manual labor Mills performed 50 years ago was typical for the time. As the years went on new machinery was brought in. For starters, Warren Law, son of founder Walter B. Law and the company's second President, bought and installed a new machine that would automatically seal the bags. According to Mills, third and current President/CEO, David M. Mendez, was responsible for progressing the production facility even further. Mills recalls when Mendez began automating the packaging process in the late 80's which significantly decreased the manual part of his job, increasing efficiency overall.
"When Mr. Mendez came that's when the company started expanding. He's the one that [advanced] us with technology…The company really started to blossom."
Mills noted and is proud that these technological changes have allowed him to, as he likes to call it, "Put up more coffee." In fact, advances in machinery have allowed Law Coffee to produce as much coffee in one day as what used to take Mills and his co-workers one month.
Mills points out that technology is responsible for some unfortunate changes as well, mainly societal ones. The emergence of advances such as computers, for example, has replaced the face-to-face conversations that he enjoyed having with customers.
"People don't interact with others like they used to. They are more closed off and in their own worlds."
Mills believes that much of the change in interpersonal communication has to do with the high value that people put on time, and sometimes face-to-face encounters are counterproductive.
But with more time, comes the ability to do more. In the 1970's Law Coffee, like other coffee companies, offered limited coffee products; only regular, and specialty blends, by request. Come the 1980's, Law began introducing espressos and flavored coffees to appease a growing interest and open the minds of the masses.
Along with the growth in coffee production and affiliated products, the Law Coffee workforce has also seen growth in all functions, including service, accounting, production and sales. They are expanding their relationships with local universities, developing internship programs to help with the changing landscape of food safety and hospitality.
"It was a smaller company back then [in the 1970's]. We had two secretaries, two truck drivers and two people in production. About eight people all together."
One of those eight people was Law Coffee's second President/CEO, Warren Law, whom Mills pronounces "a fair man." And to a man like Mills, whose favorite movie is The Ten Commandments, fairness in a person is highly respected.
"He wanted you to do your work, be there on time. He wasn't a hard-nosed person. As long as you did your job he didn't bother you."
Though head of the company, Mills recalls that Law would go out on deliveries; perhaps to stay in touch with both the front-line employees and valued customers.
The "fair" Law must have had quite the influence on company culture as Mills describes Law Coffee, the company, to be "fair" as well.
"[Law Coffee] is always trying to progress. I've seen it through its stages…from a very small company to a semi-medium company to a medium sized business. They put out good products…Nothing sits. Everything's fresh…they always do what it takes to put out a better cup of coffee."
Mills is proud of the company's progress and extensive line of Law Coffee products but still has high hopes for the business. He would love product placement in grocery stores as he hears this request from strangers frequently. He also feels that Law has an opportunity to do more advertising.
He may have that covered though as it seems that Mills advertises Law Coffee by simply living his life. He wears his Law Coffee t-shirts quite often and feels the love from the public.
"When I have a Law shirt on people come up to me on the street and say, "You work for Law Coffee? That's some good coffee!" It makes me feel good. I never met someone who had a bad thing to say about Law Coffee."
Currently, Mills lives in Linden, NJ, a short distance from the factory. He is a man that likes routine and so, when he's not producing coffee, he goes to church every Sunday and can be found at his home in Linden, NJ watching his favorite westerns and enjoying his ideal dinner of liver, believe it or not.
It's safe to say that only in this man's mind lies Law Coffee's impressive history and notable growth. His eyes have seen and ears have heard the vast timeline of this well-regarded and steadfast family-owned business.
And how does Mills take his coffee you might ask?
"Law's House Blend. Sugar and cream. A cup a day."