The affogato….sweet gelato drowned in delicious espresso. A wonderful after-dinner winter treat.
But summer is approaching, so let's add a slight twist to this popular dessert, shall we? How about a COLD BREW Affogato? You're intrigued, right? Good!
Here's how it goes…
First, you need your favorite gelato or ice cream. In this case I had my go-to, "Cookies and Cream" on hand. Place a scoop or two of that in a small glass or coffee cup.
Second, you need cold brew coffee. Watch the video to see how easy it is to make cold brew coffee at home with Law Coffee's Cold Brew Coffee Filter Bags.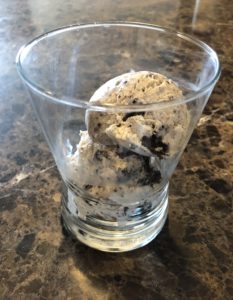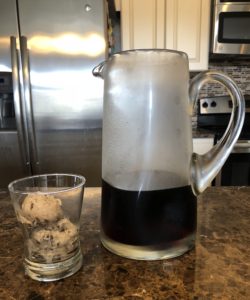 Then, simply pour the cold brew coffee on top. It's that easy! Feel free to add some toppings if you wish, such as espresso beans or chocolate chips. But you don't need them…the combination of cold brew and gelato is incredible all on its own – its bold, sweet and satisfying!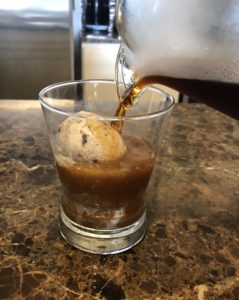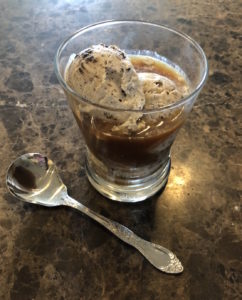 Note: If you enjoy carbonation try Nitro Cold Brew Coffee in place of the Cold Brew Filter Bags for a fizzy sweet treat!
---
COLD BREW AFFOGATO
Ingredients:
Law Coffee's Cold Brew Coffee Filter Bags
Gelato or Ice Cream
Make the cold brew coffee by putting the filter bag in a pitcher. Add 32oz of cold filtered water. Cover and refrigerate for 24 hours. Remove the filter bag.
Add ice cream or gelato to a small glass or coffee cup and fill with cold brew coffee. Add toppings if desired.
---
Written by Kimberly Oley, Marketing Director, W.B. Law Coffee
#gelato #icecream #affogato #coldbrewcoffee #dessert #lawcoffee #ironboundcoldbrewcoffee #coldbrewfilterbags